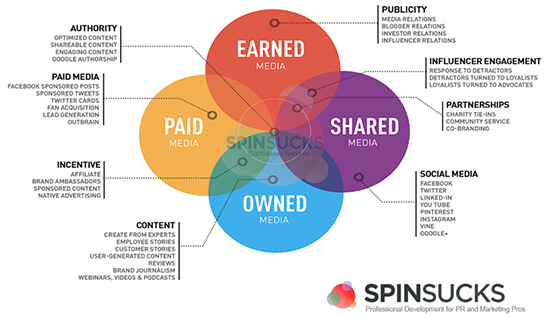 Yesterday afternoon, I had the pleasure of being the guest on #ContentChat, which is hosted by Erika Heald.
Full of GIFs, lunch boxes, unicorns, and Trapper Keepers, the chat started off with a bang…and lots of inside jokes among people who clearly hang out online together once a week.
Though the inside jokes were many, I didn't feel like an outsider. They welcomed me with open arms, funny GIFs, and intelligent conversation.
First, this is a Twitter chat you should add to your schedule. It's every Monday at 3:00 ET. Just search #ContentChat on Twitter and you'll easily find where you are supposed to go.
And, for those of you didn't attend this #ContentChat, I thought it'd be fun to do a recap for you.
#ContentChat Twitter Chat Recap
What is the PESO model and why did you create it? The PESO model stands for paid, earned, shared, and owned media and is the process we use internally. Because we want to change the perception people have of the PR industry, I decided to introduce it in Spin Sucks, the book. And then continue to educate its use through blog posts, eBooks, speeches, videos, and more.
Why is content important for PR? Content is the starting point for any PR program. Without it, you can't do the rest. Journalists today want to see that you've been published in other spots. And you don't have the P or S in the PESO model without content. Start every program with content and build from there.
What role does media relations play in PR's content program? Media relations is one prong of the four-pronged PESO model. It helps amplify and elevate your message. If earned media is done well, you can benefit both your organization and the media outlet. Everyone wins!
Why should PR care about generating leads and measuring ROI? I once got kicked out of a LinkedIn group for saying PR should measure results to cold, hard cash. The old school way of thinking is it doesn't drive sales. But it does and can—and should—be measured. Plus, if you can show your worth, wouldn't you want to do that versus saying, "Oh, we raised awareness!"? Blah. Yes, awareness is good and it should be part of the plan, but it's the beginning, not the end.
Where does executive thought leadership fit into all of this? I know "thought leadership" is a term that makes most marketers shake their heads, but if done well, it works. Of course, the thought leader must actually have a point-of-view that is unique and be willing to spend time honing it. Too many execs want to be thought leaders, but either have nothing new to say or don't want to work on it. A content marketer cannot make you a thought leader without your involvement.
How do I which which topics I should focus on with my PR content? Content topics should focus on 1) Questions customers and/or prospects ask; 2) Questions customer service/sales answers; 3) Questions you answer in emails; 4) Keywords used in search; 5) Your point-of-view or differentiators.
What are your must-have tools for smart PR content creation? Must-have tools? Google keyword planner, moz SEO toolbar, a notebook, and a list of questions customers ask. Even though Google recently said they're changing the keyword planner, it truly only affects those who do pay-per-click advertising. It doesn't affect the work you'll do as a PR professional. And the moz toolbar is fantastic, but you do have to have an account (which is free) to use it. This is also a recent change.
Do you have anything else to add? If you want to check out the PESO model, we have a bunch of free content coming out. Go here to begin your journey.
And now the floor is yours. What else would you add to these #ContentChat questions?