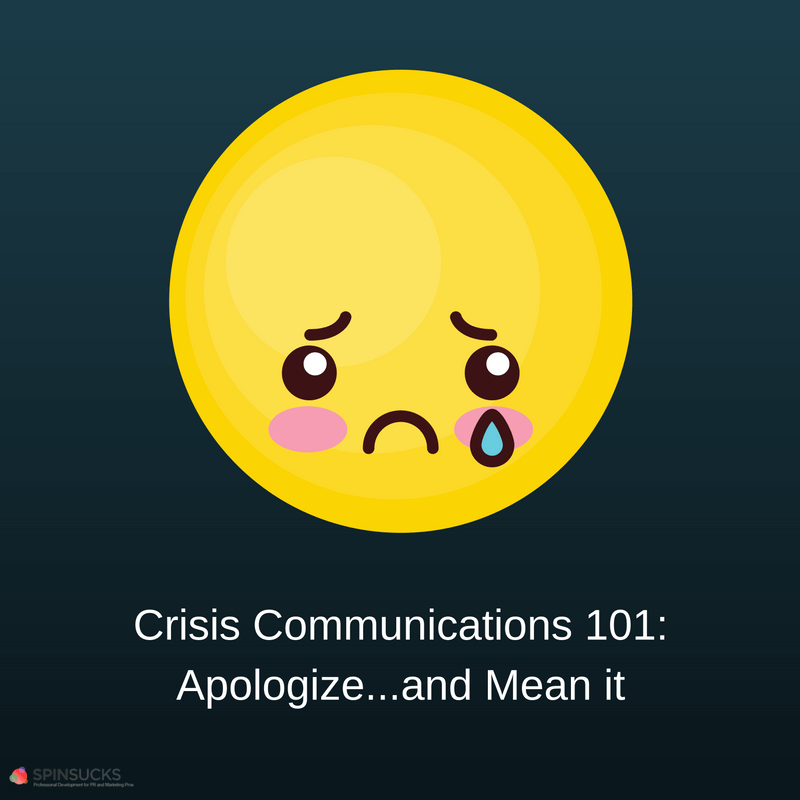 Why are the words "I'm sorry" so hard?
ESPECIALLY in marriage.
I kid. Sort of.
You totally know what I mean, though.
You've had a fight. You both think you're right, but an apology does need to be had, if only so you don't go to bed angry.
Who goes first?
I've found, the older I get, the easier it becomes…that and I really do like Mr. D.—a lot—so I don't want him mad at me.
You apologize. You move on. The world doesn't end.
And yet…
Crisis Communications 101: Don't Lie, Then Apologize Later
This is a real problem in business, too.
A really great example of this is when Hillary Clinton was asked if she had deleted important emails.
At first she denied it, which really got under my skin.
Crisis communications 101: Come clean immediately, apologize, and move on.
That way it doesn't become a story…or at least a story that never ends.
And yet…it's as if she learned nothing from her husband lying about his relations with "that intern."
She finally admitted that emails had been deleted and, when asked about it during the first debate, she swiftly admitted it, apologized, and moved on to her message.
The way she handled it during the debate was perfect. Too bad it wasn't the first time she was asked about it.
Learn the Lesson Quickly
The examples of what not to do, when it comes to an apology are many: Tiger Woods, BP, Kenneth Cole, and Paula Deen.
It's easy to find what not to do, which proves an apology is so hard for human beings, in general.
But it's a really important lesson to learn…quickly.
In marriage, in life, and in business, the sooner you come clean and apologize, the better off you are in the long-run.
My mom used to say to us, "If I am going to hear about something from your teachers, I had better have heard it from you at first."
What we learned is punishment was far greater if we thought we could get away with something and didn't say a word (a lesson one of my brothers had a really hard time learning).
From time-to-time, you will have to apologize for actions that may have affected your clients or customers.
It's just life. We can't all be right all of the time (which is a really hard lesson for me to learn).
Apologies can signal different things based on the circumstances.  
The typical goal is an expression of remorse, but in business, it can also announce a new attitude or policy or indicate a change in culture.
Common sense and decency dictates the public face of the organization issue the apology.
Done well, it's a powerful way for consumers to connect with a brand (especially if it's a large company) in a personal way.
Five Ways to Apologize and Mean it
When Delta had a massive IT failure that left thousands of people stranded, CEO Ed Bastian recorded a video apology.
It doesn't come across as a parsed, legalistic statement.  
It's direct, to the point, and empathetic.
A message from Delta CEO Ed Bastian: 'This isn't who we are'https://t.co/xBC9xOKOQu

— Delta (@Delta) August 9, 2016
Here are five really good things he did, that you can take back to the office for the next time you have to apologize.
The video was personal. Bastian apologized personally and on behalf of the company. Without excuses.

With empathy, he acknowledged the difficulty customers experienced. It was sincere and believable.
He set appropriate expectations about correcting course and admitted the problems weren't fixed.
A token voucher was offered to customers who were affected, which was a step in rewarding loyal Delta travelers.
He acknowledged his team, which was a nice touch. The airport employees are the face of the company and, though none of this was their fault, they were affected more than any others.
Bad things happen. Mistakes are made, systems fail, or people just use bad judgment.
Apologies may not fix what's broken, but it's a sure step one to setting things right.