Yesterday, we had a good little chat about PR metrics and the five things you should include in every communications program.
Today (and tomorrow), I'd like to spend some time talking about how to effectively measure PR.
Yes, you do need to go into your Google Analytics account, your CRM, and your marketing automation tools.
You also will need to set up reports to track the metrics we discussed yesterday.
But first and foremost, you want to get your benchmarks in place to provide context for those metrics and effectively measure PR.
Why to Set Benchmarks
Benchmarks are the key to:
Setting expectations;

Setting goals;

Optimizing performance; and

Ultimately getting better PR results.
Put simply, you cannot know where you're going until you know where you're starting.
Benchmarks are documentation of those starting points.
For those of you who imagined hiring a management consultant who would then give you all of the information and data you need, never fear!
None of that is necessary.
You can keep your PR benchmarks very simple.
Let me give you an example:
In 2010, we hired a marketing resident to help us grow this very blog.
We had ZERO idea what kind of growth to expect because we hadn't tracked anything, at that point.
So we set 75-day goals and we got to work (75 days because the resident was with us only 90 days and we wanted to have a little time at the end to set real goals).
This is what they looked like: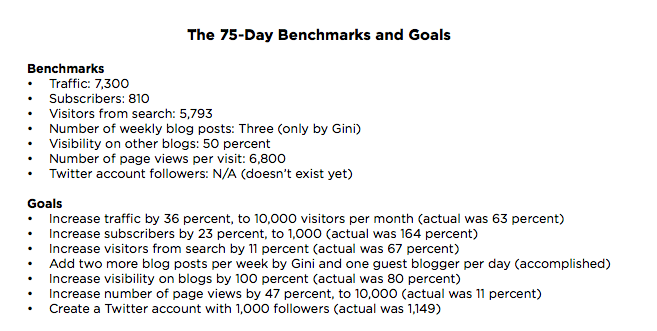 There are two things wrong with these benchmarks:
They are all vanity metrics; and
Revenue isn't mentioned anywhere.
But, it gave us a starting point, allowed us to set goals for 75 days and get to work.
We didn't overthink it; we simply looked at where we were in May of 2010 and where we wanted to go.
And you can see we crushed most of them.
After the 75 days, we were able to look at what we'd accomplished and set real goals (and add in revenue).
How to Set Benchmarks
Two very important benchmarks you want to set upfront are:
Your website or blog's domain authority; and

Your Google rankings on key search terms.
To find your domain authority, go to Open Site Explorer tool and enter your URL.
It's important to note these rankings adjust slowly, updating only once or twice per month.
You are not going to see overnight results here, but it is very important to benchmark where you are right now.
If you are going to set a goal for three months or less, I recommend you set it between three and six points higher than it is right now.
Then take a look at where your Google rankings are for your top 10 priority keywords.
For instance, we want to rank for "PR metrics" and the blog post I wrote yesterday has that keyword, though it's not yet on the first page of results.
However, two other blog posts are—in the fourth and fifth spots.
My benchmark, then, for PR metrics is four and five…with a goal to increase those to one and two.
Setting your benchmarks, and understanding what it takes to attain them is a foundational part of proving you can measure PR.
Measure PR By Asking, What's Not Working?
Now that you have your key benchmarks set, it's time to take a look at what's not working.
This is often an uncomfortable and unpleasant activity for many people, but it really shouldn't be.
It's important to look at our failures with as much pride and gusto as we do the wins.
There is so much to be learned.
Let's say you tried really hard to get featured in Product Hunt, but it didn't happen.
Ask yourself:
Why didn't it work?
Is there a lesson that can apply to getting in the New York Times or your leading industry blog?
Why didn't you win any awards that you applied for last year? It's (hopefully) not because your product sucks.
Are your award applications being written in a way that's positioning you poorly against other applicants?
Are you submitting for awards you're not qualified for?
Look at all the ways you've tried to achieve your PR goals, but failed, and ask why.
You do this in every other area of your business—why are you not doing this in PR?
Speaking of something you do in all the other area of your business, but not in PR…tomorrow we'll get into how to work through the obstacles and actually prove your worth.
By the end of this week, you'll have a great foundation on how to measure PR as you go into 2017.
Until then, what questions do you have?