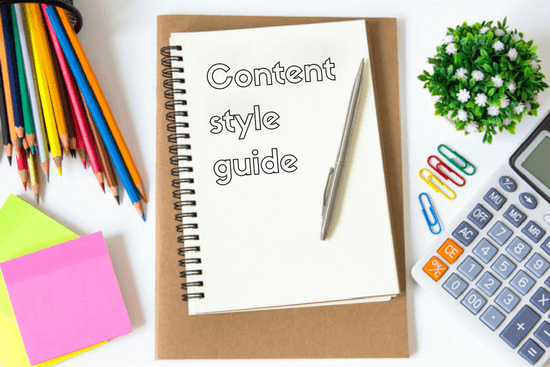 When I join a new organization, or take on a new content marketing client, one of my first to do's is to draft a content style guide if there isn't already one in place.
Why?
Because it's one of the most important tools to use to keep all of your organization's content creators on voice and on message.
Without it, you'll find you are destined to spend more of your time than you'd like making edits and requesting revisions to the content your internal and external writers create.
And wouldn't you rather spend that extra time working on amplifying the awesome content your team is creating?
I thought so.
The Content Style Guide
From a writer's point-of-view, a content style guide provides guidance on how to approach the content they're creating.
It increases their likelihood of getting back a few notes and suggestions instead of a copy deck that's a mess of redlined style edits and exasperated editor's notes about style points they are tired of repeating.
It also ensures that, even though your content is created by a team of writers, it all still reflects your carefully crafted brand voice.
Despite its utility, it can feel a little daunting to start your content style guide from scratch.
But luckily, you don't have to!
Content Style Guide Elements
The Content Marketing Institute has shared their content style guide. And so has MailChimp.
Personally, all of my style guides include the following nine elements:
General spelling and punctuation rules
Brand voice attributes
Brand-specific terminology
Business and tech terms
Logo, typography, and brand colors
Leadership team
Boilerplate
Formatting best practices and templates
Citing sources
General Spelling and Punctuation Rules
Although your content team may have a few grammar sticklers who can diagram sentences with one hand tied behind their back, chances are many of them won't remember all the ins and outs.
And then there are words with a variety of frequent (not always correct) spellings.
I include high level grammar rules, frequently misspelled words, and preferred spellings in this section.
If the organization is international, it's also helpful to include words that may have different connotations in different regions.
As an example, many U.S. writers use the phrase "bottoms-up" when talking about technology adoption starting on the front lines of an organization, but in the U.K., that phrase is what the bartender would say to you after handing you a drink.
See why you should be careful about using it?
Brand Voice Attributes
Which three terms do you use to define your brand's voice?
And how do those attributes affect how writers should approach the content they create?
If you haven't defined your brand voice, check out the CMI blog post I wrote on my process for defining and using your brand voice.
Include your brand voice chart here, and link to specific examples of content that reflect the voice attributes.
Brand-Specific Terminology
Is there a specific term your users call themselves?
What's your official conference name?
These are all included here, along with your official product names, noting any registered or trademarked names.
I additionally include the up-to-date list of the top 10 SEO keywords in this section.
Business and Tech Terms
Inevitably, you have approvers with strong opinions about industry terminology and its spelling and capitalization.
This is where you capture all of those preferences, plus any phrases or words to avoid using, such as guru.
A few examples of terms I frequently include in my content style guides:
C-Suite (note capitalization)
company names are singular. (Deloitte is, not Deloitte are)
millennial (lowercase)
SlideShare (note capitalization)
Logo, Typography, and Brand Colors
Which fonts should be used for your website content?
What about print materials and presentation decks?
Where can your official logo(s) be downloaded?
And what are your official brand colors and their hex equivalents?
This section, alone, can save you hundreds of repetitive emails per year.
Leadership Team
Is your website updated immediately to reflect leadership changes?
Chances are it's not.
Including a list of your key leadership team members, with their preferred name and title, is important for maintaining consistency across your content and communications efforts.
You can even use this list to track whose bio is on the website.
Boilerplate
Corporate messaging has a tendency to become quickly outdated, with multiple team members saving different versions of it to their hard drives.
It's no wonder every conference program and sponsorship bio ends up using completely different language.
Nip that in the bud by including the most-used pieces of boilerplate in your content style guide, and hyperlinking to the full messaging documentation.
Be sure to include:
Vision
Mission
Tagline
Brief or one-line description.
50-word description (frequently used in conference guides)
PR boilerplate (as it should appear on all news releases)
Content Style Guide Formatting Best Practices and Templates
Do you use initial caps or sentence case for your blog headlines and email subject lines?
Are you OK with writers using "click here" in their copy?
What do you consider to be good alt text?
Specify your best practices for these issues and more, and link to any templates you may have.
I typically have blog post and email templates that I link to from this section, to provide writers with guidance to ensure consistency in brand communications.
Citing Sources
It drives me bats to see poorly sourced—or unsourced—statistics and claims in copy.
If you're writing a blog post, link to the source in your body copy.
In other situations, you'll want to include a more formal citation.
Don't assume your writers have experience with sourcing.
Instead, give them some examples of what constitutes a good citation.
At a minimum, include how to source a blog post and a website.
Here are my examples for these citations:
With these nine elements in place, you have a solid foundation for a robust and useful content style guide to help your content and communications teams spend less time tracking down frequently used information, while creating increased consistency in your branded content.
What else would you include in your ideal content style guide?
Let me know in the comments.
I'd also love to see any publicly-accessible examples you'd like to share.
image credit: shutterstock