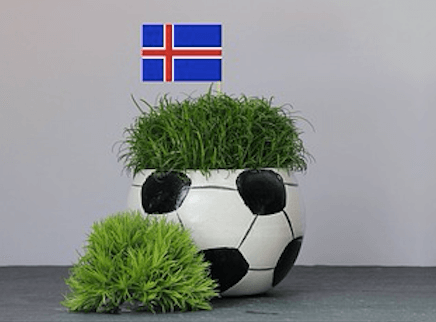 How would you like it if 10 percent of your target market came to your special event?
Or 99.8 percent of them choose to engage with your content?
And not only supported you, but were such passionate brand ambassadors they changed their lives, spent money, and overcame numerous logistically obstacles just to engage with you in some way?
That's exactly the situation Iceland's soccer team faced as they rose to well earned fame during the European Championships during the last several weeks.
Iceland's very deliberate journey to the celebrity and success they've experienced the last several weeks has many strategy development lessons any organization can take away.
By far not an "overnight success," what the world has seen os the product of a very well thought-out strategy being executed for years.
Strategy Development Lesson One: Invest in the Long-term
Iceland's soccer success started much like any organizational journey—with a goal. From that goal they went about a integrated strategy development process to make it happen.
They realized, to really reach the level they desired, it wouldn't take months; it would take years. And they were willing to invest in a bottom-up strategy, which changed the entire culture around soccer in the country.
They made a commitment to quality coaching and player development.
Not just for elite players but for all players, even of teams as young as nine-years-old.
This meant finding coaches certified at the Europe's highest level and investing in numerous, top-of-the-line indoor soccer facilities to allow players the opportunity to build and improve their skills year round.
Lesson: Don't ignore the building blocks.
Success must be built on something and if that foundation is weak, so will the success.
These are the things that are sometimes short changed because they take years, not weeks or months to result in effective change and require an across the board cultural change, but they are the most important.
Strategy Development Lesson Two: Team Continuity Drives Success
Iceland's soccer community is small and tight knit.
This means many of the players at the highest level of played with one another for years.
And, through that time, have developed an understanding of each other which is so crucial for a team sport such as soccer.
Likewise, when they hired the national team's current coach, Lars Lagerback, they also hired an assistant coach, Heimir Hallgrimsson, already vetted to take over the team when Lagerback steps down.
Iceland realized the important in continuity for both players and coach and so developed a process to provide that (again, focused on long-term success vs. short-term victory).
Lesson: Turn over in any team, whether it be leadership or colleagues, can be challenging.
Take the time to invest in the right team and leaders. And once you do, invest in their development and growth.
Strategy Development Lesson Three: Community Involvement
Beyond the actual skill and development of the team and players, Iceland works to make the entire community feel part of the success, failures, and journey of the team.
This community of support in-turn continues to drive team success and interest in young, new players—essentially making success perpetuate itself (I wrote about a similar phenomena with University of Oregon's rise to fame a while back).
The most obvious example is the now famous clap, which the players and fans participate in at the end of each game.
The clap was something originally developed by fans and adopted by the team.
It brings together all supporters and helps bond the community, no matter where or who they are.
I mean seriously, I want to go to Iceland right now, paint my face, and adorn myself in team gear after watching this…it's infectious.
Lesson: Always be a "we."
Let your community be part of your success and your failure. And, when it makes sense, let them lead.
The community that develops around you should always be seen as an extension of your internal organization.
Treat them as such and empower them to grow in strength, connection, and numbers right along with you.
Strategy Development and You
In all of these lessons, and the many others we can learn from the success of Iceland soccer, we see consistently they had a goal and used it as the foundation of their strategy development.
They made sure all actions, tactics, and objectives aligned with that goal and brought them closer to it.
They were inclusive in their growth and patient in their development.
And, most of all, they never sacrificed instant gratification for their long-term aims.