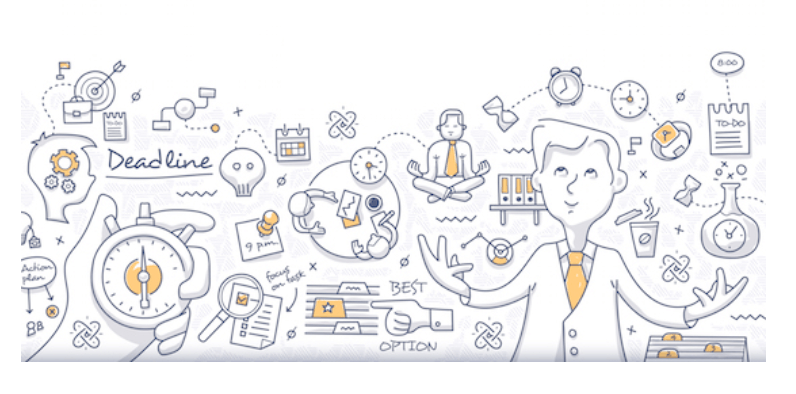 There is a new book out that is getting lots of attention, particularly from executives around the globe.
It's called Deep Work and it's authored by Cal Newport, a professor at Georgetown University.
Deep work is like a super power in our increasingly competitive twenty-first century economy. And yet, most people have lost the ability to go deep—spending their days instead in a frantic blur of e-mail, social media, and meetings, not even realizing there's a better way.
This description probably sounds very familiar to you.
You get to work, you check your email and social media. You go to a meeting. You check your email to make sure nothing has blown up. You go to a meeting. You check social media to have a brain break. You go to a meeting.
And so it goes all day, every day.
By Friday, you're exhausted and completely stressed out because you've accomplished nothing.
What you really wish for is more time…if just someone would invent the 26-hour work day and I were the only one who had access to it.
Well, guess what?
Deep work does work, if you can take control of your day.
Six Tips to Build Deep Work Into Your Day
What works for one person may not work for others, but there are some tried and true time management tips that work for everyone.
Schedule all of your meetings in blocks of time. For instance, I do all of my meetings each day before noon, except on Mondays (I do all of my internal and client meetings on Mondays). It's extremely rare I will take a meeting after 1:00 during the rest of the week. For me, the afternoons are for deep work, which I know I can't do if I'm interrupted several times with meetings.
Have no more than three items on your task list each day. It is impossible to get more than three big things finished each day. By having a to-do list that carries over day after day, you're adding undue pressure on yourself and creating feelings of being overwhelmed. Have a daily task list with no more than three items on it…and get all three things finished that day.
Schedule time for email and social media. Close your email (or take it offline, which is what I do) and keep your social networks closed for most of the day. Check both first thing in the morning, around lunchtime, and again before you shut down for the day. I'll check my email from my phone, to be certain there isn't anything from a client or an employee that is urgent, but it's rare I will answer them except during my allotted time.
Empty your inbox every day. This one may not work for everyone because I know lots of people who use their inbox as their filing system. That would drive me to drink copious amounts of alcohol. Before I finish for the day, I go through my inbox. I add stuff to my to-do list (in Wunderlist), file, respond, and delete. I also am a HUGE fan of SaneBox because it's made this task much more realistic. For instance, this morning I had only 10 emails in my inbox. SaneBox had filed everything else for me.
Write your task list the night before. Before you end your day, figure out what tasks you have remaining for the week, review what's come in that takes priority, and assign the three most important things for the next day. That way, when you begin your day, you're already ready to roll.
Use one day for nothing but thinking and doing. This day for me is Tuesdays. I rarely take meetings on Tuesdays because that is my day to get things done that have been sitting there for a week (and because Mondays are typically full of meetings from 8-5 so I need the following day to follow-up on things I promised). Right now, that time is spent on follow-up, on working on Spin Sucks projects (online course forthcoming!), on scheduling guest blog posts, and working on business tasks (process creation, new products, new ideas).
Manage Your Time; Find Work/Life Balance
I know it's easy for me to sit here and extol this wisdom.
After all, I own the business so I can pretty much determine what works and what doesn't work.
I can set my own schedule.
Sort of.
There is only one person who can be sure you can do the deep work that will allow you to be productive: You.
You'll get some pushback in the beginning, "What do you mean you can't meet at 5:30 on Friday night?", but people will begin to get used to the schedule you've set and will accommodate.
Of course, there are jobs where this won't work and there will be times you have to be flexible, but for the most part, these tips will help you manage your time, be more productive, do deep work, and meet that elusive work/life balance.