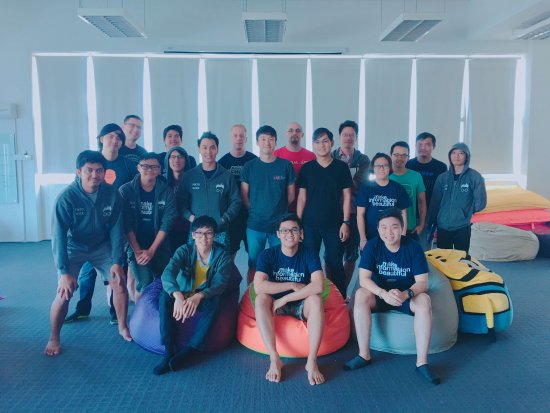 Attracting talent is ridiculously difficult to do—and retaining them is even harder.
At Piktochart, we have been on a unique path.
We're not only semi-remote; we're also based in Penang, Malaysia.
Most startups in Malaysia are based in the capital of Kuala Lumpur, a city of nearly two million.
But we were intentional about being in a smaller startup ecosystem.
Having the headquarters in Penang brings challenges.
One of the biggest in our first four years is the small talent pool of software developers in Penang.
Apart from tapping into the global workforce (we're currently 30 percent expats and 70 percent locals), we brainstormed ways attracting talent in Penang might behoove us.
I have always had the patriotic outlook that the Malaysian workforce is as competent as the rest of the world, and I wanted Piktochart to be a part of driving that culture of excellence in the local tech scene.
We started to think of ways to increase our branding locally for the sole purpose of attracting talent.
Because the number of developers is not large, we focused all of our energy on fresh graduates.
Attracting Talent: An Idea 
The challenge was most lack the skills they need to be able to hit the ground running, and they often require intensive training or on-boarding.
We had an idea.
What if we could help to build the local ecosystem by attracting talent in fresh grads?
We don't see many tech startups investing in training fresh grads.
Most startups have the pressure to execute their world-changing plans.
This requires the best and brightest employees all working with one singular focus—to ship their product, and ship it fast.
There is often very little time for training.
When someone joins, they are expected to immediately contribute and generate results.
We decided to experiment and see if we could develop good talent that may contribute to the ecosystem one developer at a time.
Piktochart Web Academy
That's how Piktochart Web Academy came to life.
We had 40 people apply for this first cohort, and we settled on three candidates who passed our technical test and interviews.
Our program has three interesting differences compared to other development schools such as General Assembly or Dev Bootcamp:
Pikto Web Academy is a full-time commitment. Think of it like attending courses at University, only we are paying new grads to learn.
Participants don't actually work on Piktochart products. They focus on building tools that help to make our team's lives better. This gives them a testing ground and freedom to try new ideas without fear of breaking a tool six million users depend on around the world.
Establishing a curriculum was an added benefit to our seasoned team. All of our developers from different disciplines chipped in with creating materials, tests, and classes. Students have the opportunity to learn multiple styles of coding along with their intensive training. Our team had the benefit of learning via teaching.
There are structured classes each week.
Each student is assigned a project.
We incorporate design sprints, a supporting designer, and a project owner.
We drew from our culture of feedback internally at Piktochart and set up a system for students to receive feedback after every module they complete.
Grow Your Talent Ecosystem
You might wonder about the significance of these individuals.
There are five reasons Pikto Web Academy is a win for attracting talent.
It may also be a win for you if you adopt this type of thinking into your culture.
Great employers attract great employees. If we are great employers, participants will spread the word. Our company is growing rapidly, and we are open to experimenting with how to best attract candidates. A recommendation from a Pikto Web Academy graduate is worth a lot.
Students learn and then teach others. If students learn as much as we hope, they will be able to teach others wherever they choose to go next. If they have understood the model of giving forward, they will be able to help others selflessly.
The ecosystem grows organically. If students become entrepreneurs, they will help to build the ecosystem in Penang. There currently are six successful startups in Penang, and everyone in Piktochart would like to see that number grow.
Students turn into full-time staff. If they become full-time staff at Piktochart, we gain new people. Currently, it takes us around three to five months to fill one vacancy! The Academy gives us the opportunity to spot potential and to help them become a little more polished.
Everyone learns (and grows) together. The benefits aren't just for the students—we also learn a great deal from this experience. Internally, it has helped us shape what's missing in our developers' documentation. We've restructured the way we're giving feedback, and feedback cycles have become more frequent. Because the students had never experienced a design sprint or a scrum before joining the Academy, we've had to find ways to explain how these processes work in simple, easy-to-understand ways. We spotted new ideas in the product thanks to their valuable questioning about why certain product decisions were made.
Retaining the Talent You Train
The interesting thing about building a startup ecosystem is while everyone wants to hire, very few want to spend time building programs to train good people to become great.
When we launched Pikto Web Academy, we acknowledged it's an ongoing experiment—it may or may not not be sustainable for the community's talent-building efforts.
Although it remains to be seen, I am glad that we've taken a step to help Malaysia make its mark on the map for tech talent.
What are you doing to build your talent ecosystem?
image credit: Piktochart