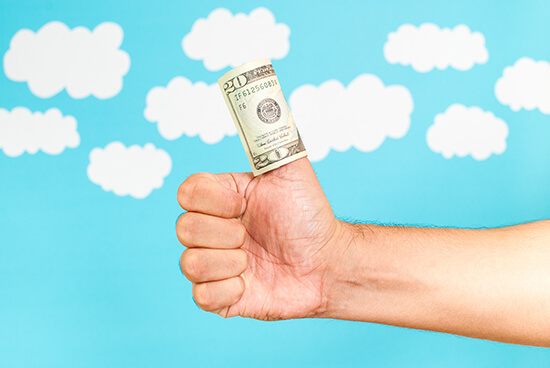 From CEO to entry-level clerk, everyone has heard something similar to this, "Social media is great and all, but how is it going to make me money?"
This is the question of the era.
We all know it gives you the opportunity to be your own publisher, and to control the message about your brand.
When consumers Google your business, more often than not, your brand's social media pages will show up on page one.
Considering that you can regularly send content to a spot your followers are already spending time, social media has the potential to be even more valuable than your website.
But how do you answer the question that nearly every business leader asks about profitability?
Direct Sales
Depending on your line of business, every social media network—except Snapchat—has link capability which allows you to directly promote sales of your product to your followers, and if your content is good enough, your followers' followers.
The key here is understanding that you cannot ram sales down your audience's throat 24/7.
Follow these rules for a balanced social media presence:
Thirty percent of your posts should be your own blog posts, videos or slides.
Sixty percent should be retweets, shares, or links to outside content.
Ten percent should be sales messaging with a direct call-to-action.
This ratio might surprise some marketers, but it serves as a reminder that you need to add value through your social media, first and foremost.
Social Media Influencers
Product placement with influencers on Instagram might be one of the most valuable marketing tools out there.
Search hashtags that are relevant to your industry, and you'll find those influencers who have the largest group of followers.
Then reach out to them via direct message, including a photo of your product, and ask if they would be willing to post about the product in exchange for receiving it at no charge.
If you have a larger budget, consider reaching out to more prominent influencers and celebrities and ask them to post photos with your product on social media.
It may not always be free, but the power influencers have to create instant trust and demand for products is tremendous, so it's worth asking.
Email Capture
Building your social media audience is a smart and effective tactic, but be wary of building on rented land.
Those business owners who went all-in on Google+ probably aren't getting much out of that audience.
Instead, drive your followers to a targeted landing page on your website with an incentive to join your mailing list.
Capturing the email addresses of your social media followers is a good way to build a list of potential leads, and provides more fuel for your sales and marketing teams.
Employee Recruitment
Have you been paying to post job opportunities on employment website engines?
Why not use your social media channels to promote job openings instead?
Ideally, your employees should be following your business' social accounts, and will most likely share these job openings with their followers.
You should also use your social media channels to showcase your office culture and employees.
Post photos of employees enjoying a free lunch in your awesome cafeteria, or playing air hockey in the game room, or having cocktails at your swanky company retreat…anything that makes a point of showing how great it is to work for your company.
Using social media in this way can be your most effective recruiting tool for getting those positions filled.
Prospect Outreach
Targeting individuals and businesses on social media is a great way to learn more about your prospects.
This enables you to reach out to them directly, and in a more efficient and less invasive manner, so you can drive sales leads.
LinkedIn has become a vital B2B marketing tool, for both sales people contacting leads, and for brands reaching out to potential partners and clients.
Following people or brands on social media gives you the insight and connection needed to fuel your sales pitch.
Twitter is also a valuable sales tool for prospecting.
Looking to introduce yourself to a potential new partner?
Follow them on Twitter, retweet their content with compliments, ask them professional questions tied to their content, and then reach out with a direct message asking for a conversation.
Paid Social Media Advertising
Organic reach on Facebook has plummeted in some cases to five percent (down about 10 percent in the past year), and algorithms on Twitter and Instagram mean that all of your content won't be seen by your entire audiences there, either.
The good news is social media advertising is extremely cost effective.
The targeting capabilities mean that it should be a crucial part of your digital marketing strategy.
These are just some of the ways that your business can use social media to its advantage in becoming more profitable.
image credit: shutterstock