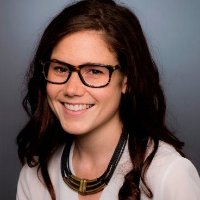 Ladies and gents, I have a super fun Spin Sucks community member (and student) to introduce you to and you will not regret this one.
(Not that you've regretted any of them—except maybe Ken Jacobs.)
But this one, this one is super fun and super smart and so stinking cute.
Introducing…Kait Fowlie.
I first met Kait when she was working at Marketwired, but she recently went out on her own (I told her the hardest part is deciding you're going to do it, so the rest is easy now) and now is a one-woman shop for content marketing and social media.
She's Canadian (though you'll find out something interesting about when you watch the video) and she warms my heart when she describes the books she's read.
By stalking her—not because she told me—I learned that she studied taxidermy at university.
I feel like that is something people should know, particularly when one is asked, "What would surprise most people about you?"
Oh, I don't know. I studied TAXIDERMY and now I'm a writer and editor.
You will fall in love with her with every minute you watch of her, and especially when she answers the "name three dips" question. (I mean, really.)
The Spin Sucks Inquisition
Kait and I had a fun chat and explored the normal questions, but I got some really fun answers out of her, minus the taxidermy exclusion.
Tell us who you are and what you do.

What is the biggest mistake you've made in the past six months?

What is one of the biggest trends you'll be using this year?

What is one thing about yourself that would surprise most people?

What is the best book you've read in the last six months?

What is your latest Netflix binge?

Five second rule

Where can people find you online?
If you can't access the video below, you can find it by clicking here.
Where You Can Find Kait Fowlie
Now it's your turn to get to know Kait, which you can do by stalking her online.
You can find her on:
And now the floor is yours. Say hello to Kait!