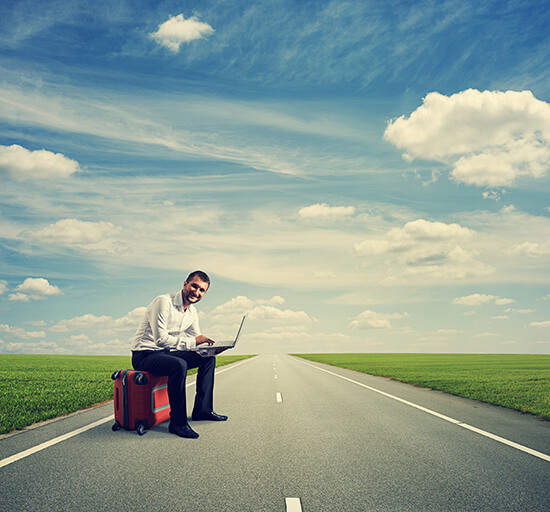 Online marketing is a cutting edge role, so I guess it shouldn't come as too much of a shock to learn that the working practices within the profession are pretty cutting edge too.
Gone are the days of marketers being tied to their desks, telephone in hand, with a bank of screens in front of them.
Modern technology means marketing has gone mobile, and so have the marketers.
These days there are tools available to do the entire job with little more than a smartphone, a laptop, and an internet connection.
Plenty of people out there are taking full advantage of the flexibility this offers them.
For some, it is the chance to work from home and be more engaged in family life.
For many others, it has opened up the opportunity to live a life of excitement, travel, and adventure.
There is now nothing to stop you doing your job from almost anywhere in the world.
As remote workplaces become the new normal, many are choosing to get on the road and to check-in with clients and colleagues via digital media only.
These nomadic marketers have a wide range of tools from which they can choose to help them work effectively, regardless of their location.
Here is my rundown of the best tips and tools to help you stay on top of your online marketing game while traveling.
Online Marketing: Use a Good Communication Tool
If you are going to work remotely, effective communication is going to be vital for you.
You need to be able to stay in touch with your clients, contacts, colleagues, bosses, and others to whom you report.
Finding an effective online communications tool is vital.
There are lots of different options on the market, and while bigger names like Skype are always a popular choice, there are plenty that are purpose-built for the business user.
My recommendation is Slack.
This messaging app has various useable features including channels, private channels, direct messaging, easy file-sharing, a simple search facility, and the ability to sync across almost every device you can think of.
Slack is very popular with many businesses and professional organizations, including the team who put the Curiosity Rover onto Mars!
Group-Call Tool
In addition to a top messaging app such as Slack, you will also need a good group-call software.
Again, Skype leaps to mind, but there is a software out there that is more suited to professional users.
For me, it's Zoom that leads the market in this area.
Zoom is a U.S. company, but offers state-of-the-art video and online conferencing services, ideally suited to organizations large and small.
It is available across multiple platforms, including mobile devices, and it's extremely user-friendly.
Workload Management Tool
Another really useful tool is one that allows teams to manage their workload and share documents and data in a simple, easy-to-use way.
There are various programs that can do this, but at the moment, I am a big fan of Trello.
Trello, offers various boards, lists, and cards which can be used to manage your workload and communicate with colleagues.
You need never forget a task, or lose a post-it note again.
Trello has everything you need to stay organized and on top of your work.
VPN Service
For those digital nomads, security for your professional content is even more important than for the average user.
This makes a VPN service absolutely crucial, especially if you will be using public WiFi networks in coffee shops, airports, town squares, etc.
A reliable VPN service enables you to run all your internet traffic through an encrypted connection, which guarantees you a strong level of security and also increased privacy.
There are many VPN services on the market and the best one for you will depend on a number of factors.
I suggest perusing a comparison site such as Fried.com (which is my business).
It will help you make an informed decision in selecting the right VPN for your needs.
With these simple tools, anyone can stay on top of their online marketing whilst globe-trotting and enjoying the nomadic lifestyle that so many people crave.
image credit: Shutterstock