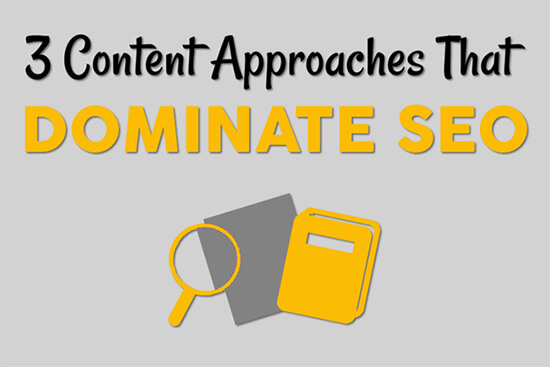 If you own an online business, or are trying to promote your offline business on the web, then you're probably already familiar with how important search engine optimization (SEO) is for driving traffic to your site.
The problem is everyone and their dog has a SEO strategy, which makes it increasingly difficult to create content that stands out and generates results for your site.
How Do You Create Content that Thrives in Search Engines?
A lot of the popular SEO advice you read online boils down to two key points.
At the end of the day your content MUST:
Provide tremendous value to your target audience.
Be so extraordinary that your competitors will be desperate to share it with others (so you can gain backlinks).
Many people don't know where to begin when they're brainstorming content ideas.
Should you create a list of tips?
Offer your opinions on the latest news and trends?
Whatever it is you choose to produce, it needs to be truly remarkable because the days of creating short "Top 10" articles are over.
That being said, here are three of my favorite content approaches that will help you create more interesting and shareable content.
Resource Pages
Resource pages provide a comprehensive list of tips, tricks, advice, and other resources related to a specific topic.
They're relatively easy to put together because you aren't creating much original content of your own.
Instead, you are creating value by curating the best content that others have published elsewhere.
As you can see below, the resource page published on Freedom From The Unknown identifies dozens of great travel resources for things such as finding cheap flights, accommodation, transportation, trip planning, travel products, and more.
TONS of value!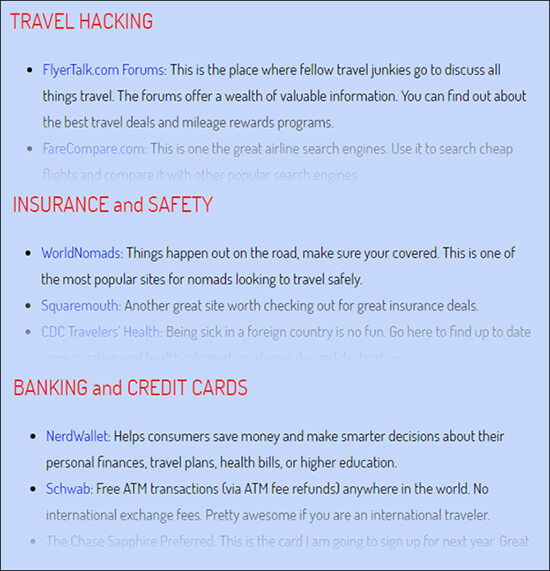 It's important to note you still need to do some quality research to make sure you're providing your audience with truly valuable resources.
Otherwise, you might miss the mark and create content that falls flat.
Why is This Approach Good for SEO?
Reflecting on our checklist above, we can safely say that well-researched resources pages can offer TONS of value to a specific audience.
Why?
Because you're providing them with the convenience of accessing many useful links in one place.
Also, backlinks can be easier to come by because people seem to love sharing resource lists.
They offer lots of value and can be useful for a broader audience.
Unlike most blog posts which need to be very much related to a site's audience.
Bonus: Each resource you include on your list presents a fantastic backlink opportunity.
It's a lot easier to get someone to link back to your page when you're featuring their content.
Plus, all these links are super relevant to your webpage which is important to search engines.
Comprehensive Guide
Comprehensive guides are long posts that provide incredible detail and many examples on how to achieve a specific outcome.
These posts don't just scratch the surface, they go in-depth and explain how someone might accomplish something.
Below is a comprehensive guide published on the ShoutMeLoud blog, which teaches its readers how to get more views on a social channel called Medium.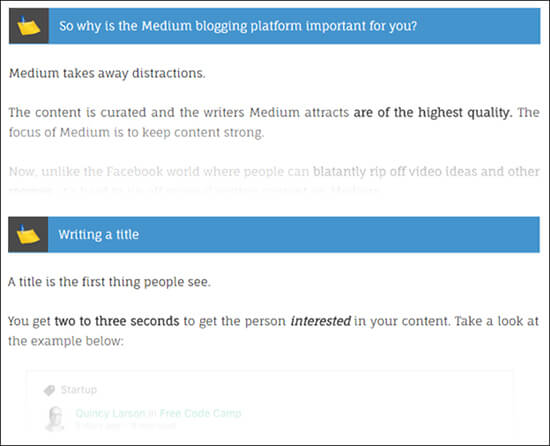 As you can see, the post is incredibly long and detailed (2,000+ words) and provides step-by-step actions on how beginners can generate more views on this platform.
Why is This Approach Good for SEO?
Guides are valuable because they help your audience achieve something on their own.
You're not just telling them WHAT, you're showing them HOW.
Think about why your audience uses search engines.
Often times they're interested in learning about something or learning how to do something.
You pick up magazines and newspapers to casually read information and pass time, but when using a search engine, you're often intent on learning something.
You have a real purpose to your search queries.
Also, your competitors will have a hard time neglecting your guide if it's truly outstanding and helps solve a problem.
Why?
Because at the end of the day you and your competition are ultimately trying to achieve the same thing: Provide your audience with value.
Case Studies
Case studies break down a specific example of something and explain, step-by-step, how it was created so the audience can learn from example.
They create value by validating a process and help eliminate barriers created by uncertainty.
Below is a case study published on eCommerceFuel that walks through the redesign of a website and how it affected sales.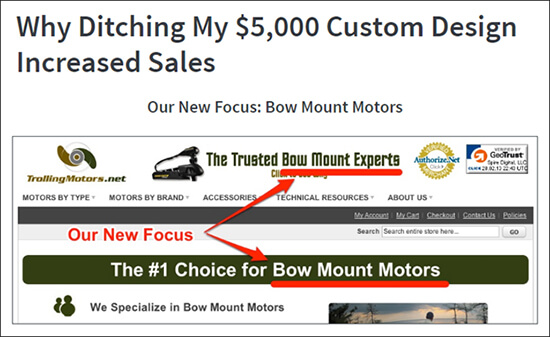 This page is a superb resource for online business owners wanting to improve their site layout.
It shows specifically what TrollingMotors (the case study example) changed and the results achieved.
The specificity and visual demonstration of these redesign tactics is what makes this case study, and others, so effective.
Why is This Approach Good for SEO?
You can never provide your audience with enough examples, which is why case studies are an excellent way to gain backlinks.
Your competitors will likely be willing to share your work because it reinforces their own messaging and is an easy way for them to provide value to their audience.
What Do You Think?
Do you agree with my list?
Leave a comment and tell me what type of content you have observed to perform well in the search engines.
image credits: myself