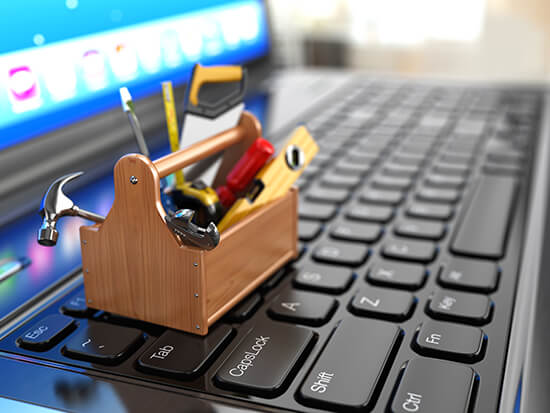 Social media marketing is a double-edged sword.
You need it to promote your content and drive traffic to your pages, but it's also extremely time consuming to monitor all of the various profiles you have.
In the grand scheme of things, social media is probably one of a hundred different things on your daily to-do list.
You don't have the time, or the people to keep things moving and monitored 24/7, so what are you going to do?
It could be a catch-22, if it weren't for today's selection of social media tools.
If you're looking to save time without compromising your presence online, you've come to the right place.
I'll share five social media tools to help you save time.
These social media tools offer you the ability to sync all of your accounts in one place.
You can see all of your analytics, schedule posts, and check up on older posts without having to leap around the internet to each of the sites.
Five Social Media Tools for Managing Your Company's Social Profiles
Beyond simply saving time, you can look forward to some amazing benefits from using social media tools such as these:
Increased productivity – Less distractions and faster results.
Better tracking capability – Check out competitors and trending topics in one place.
Scheduling made easy – Set up posts in advance they'll publish automatically.
Understand your audience – Find out what works with your audience using analytics.
A cooperative workspace – These tools let you work with others and assign tasks.
Now that you know the benefits of using social media tools like these, let's check out five options.
Buffer
If you need something simple and effective, Buffer is the social media tool for you.
With access to your Facebook, Twitter, LinkedIn, and Google+ profiles, it covers all of the major bases.
The user interface is simple and organized with a great use of white space that's easy on the eyes.
A unique "suggestions" tab shows you posts your followers may like.
You won't need to attach personal profiles either; group pages or company pages are perfectly fine.
You can get started for only $10 a month, with a variety of business plans available, as well.
Depending on your budget, there are options for all sizes.
SproutSocial
You can get started with SproutSocial quickly and easily by signing up for a 30-day free trial.
You won't need to enter payment information right away, either.
The program asks for your Twitter account immediately, along with your business name and time zone.
All-in-all, the program allows you to sync up Facebook, Twitter, Google+, LinkedIn, and Feedly accounts.
A unique feature here is the ability to set up brand keywords to monitor on the various sites.
You'll also receive messages when someone mentions you, even if they don't use an @ tag.
A "discover" tab allows you to follow back people who are following you.
On the flipside, a "clean-up" tab allows you to remove any accounts that are silent or do not follow back.
The only real downside here is the price.
Plans start at $59 per month and go up from there.
Sendible
This tool allows you to schedule future posts, and includes support for emails and SMS marketing.
Sendible takes these features, adds in support for brand monitoring on Yelp, and the ability to compose and publish posts to WordPress, Tumblr, and Blogspot.
It does a lot, but when you open it, you'll think you're looking at an email client instead of a social media tool.
That being said, the feature set is still impressive.
The 30-day trial requires credit card information, but you can downgrade, upgrade, or cancel at any time.
Pricing starts at $39.99 per month.
Overall, this is a pretty comprehensive tool for those looking to do more than just social media in one place.
Hootsuite
This little tool called Hootsuite has been gaining steam lately.
It currently sits at six million users and has support for 13 languages.
Creating a new account is free and it allows you to sync with your Facebook, Twitter, and Google+ pages along with LinkedIn, Foursquare, WordPress, and Mixi.
After syncing your profiles, you can view "streams," which are columns for various aspects of each platform.
Twitter, for example, has streams for sent tweets, mentions, retweets, and so on.
Scheduling is incredibly easy, and there are premium third-party apps you can choose from, as well.
The pricing is free, unless you choose to pay $9.99 per month for 50+ profiles and two team members.
Cyfe
This social media tool is huge for those looking to analyze all of the activity they do online.
Known as Cyfe, this social media tool tracks beyond the networks and includes widgets for the following options:
Advertising
Blogging
Email
Monitoring
Sales and finance
SEO
Social media
Web analytics
Each of these widgets also introduces additional options for syncing.
Sales and finance, for example, allows you to sync to PayPal, Xero, Salesforce, and other relevant accounts.
This tool goes way beyond social media, and instead helps you monitor every aspect of your online presence.
The Forever Free Plan doesn't cost a thing, and it's only $19 per month for unlimited team members, dashboards, and widgets.
Final Thoughts  
All of these social media tools offer different options that can fit into a variety of needs for a business.
Cyfe is great for those who need an all-in-one option, while Buffer provides a simple and effective method of social media management.
Consider your needs and then make a choice based on your requirements and budget.
Which social media tools do you use to help keep your social media profiles under control?
Share your favorites and your tips in the comments below!
image credit: shutterstock