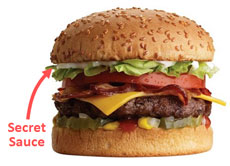 Everyone always wants to know what is the secret sauce to building a community. Well, I'll tell you. It's simple, really.
Stroke people's egos.
Seriously. That's it.
You've heard this from me before; it's not a new concept. But it truly is the secret sauce.
Starting from Scratch
Some people disagree with me. Mitch Joel, for instance, thinks blog comments are nice, but the real juice is in the content.
I agree. But I also think if you aren't giving people a reason to comment, they're not going to. If you don't stroke their egos by visiting the places where they participate online, they're not going to come to you. And this is very important, especially when you're starting out.
But how do you go about doing such a thing?
Three years ago I began blogging for the sheer purpose of figuring it out so we could counsel clients on the pros, cons, and how to make a blog effective.
And something interesting happened along the way. I built a community.
It actually wasn't on purpose. You see, I had 128 visitors the first month of blogging. No one commented; not even my mom.
But I began reading other blogs, and commenting on them. Soon, those bloggers came to my blog and commented on my content.
Well, let's be real. It took me 10 months to figure that out. But when I figured that out, our traffic jumped, oh, nearly four thousand percent. Yes, four thousand percent.
All I was doing? Stroking other people's egos by commenting on their blogs and being smart about what I said.
The funny thing is that, when you comment consistently, the blogger wants to know who you are. So they check you out. And, if they like what they see, they comment, subscribe, and share.
Building Community
But, of course, for this double type A personality, that wasn't enough. I really wanted more than traffic and comments.
I wanted community.
Back to Mitch Joel…I read a blog post he wrote about community. He said (I'm paraphrasing) that you don't have a community until people begin talking to one another without your participation. Until then, it's just comments.
And he's right. You know you've hit community mecca when people come to your site to talk to one another, with your content as the conversation starter.
One of the things we did to really help build community was install Livefyre as our commenting platform. You see, it invites people to come back over and over and over again.
But it's not the end all, be all. It's only a tool. It's in how you use it that makes community building successful.
The consistent content has to drive conversation. Create a polarizing opinion and watch people talk to one another (professionally, of course) about the topic.
Additional Things to Consider
So we've talked about stroking people's egos, having good and consistent content, creating a conversation, installing Livefyre, and providing some banter.
A few additional things you should consider:
Know what your vision is for the blog. It's easy to forget when you read other blogs and you're moved so much by what the bloggers have written that you want to write something similar. Unless it matches your vision, don't do it.
Have goals, just like you do for everything else you do in business. We started out with silly goals, such as "beat Danny Brown in the AdAge rankings," which keeps me, particularly, motivated, but doesn't do much for the business. Know what you're trying to achieve and don't take your eye off the ball.
Your content should always have a call-to-action to it. This was a really hard lesson for me to learn. When I figured that out, this last year, our traffic grew 281 percent. Our community grew. And you know what else? Our sales increased because we gave people a reason to buy from us.
Three years of blogging. Nearly a 30,000 percent increase in traffic since the beginning. Ten blog posts per week (four from guests). A highly engaged community. And increased sales.
All because I believe if you stroke other people's egos, your benefits far outweigh the cons.
Thanks to PowerPointNinja for the image. I always think, two all beef patties, special sauce, lettuce, cheese, pickles, onions on a sesame seed bun when I think about community building.