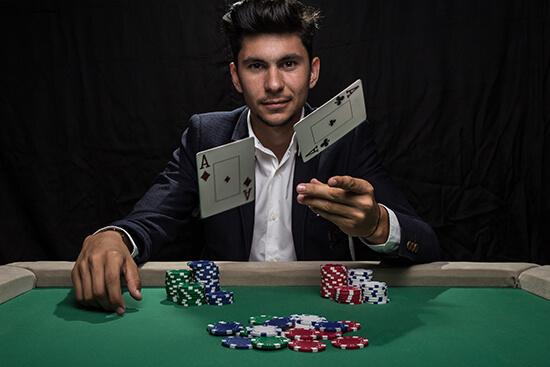 When it came time to hire a team at my programmatic media agency, I had a pretty clear idea of the type of people I wanted to bring in and the culture I wanted to build.
To thrive and deliver results, our brand needed to be represented by detail-oriented problem solvers with sharp minds for optimization and analytics.
From a cultural standpoint, they needed to be enthusiastic, determined, and fearless; the types of people who don't let the potential for failure hold them back from moving the company forward.
Honestly, who wouldn't want to assemble a marketing team full of employees like that?
We posted our job openings, the résumés poured in, and we began the vetting process.
One day, I came across a particularly unique candidate named Ryan who listed "professional poker player" as his most recent job.
Maybe I was a little loopy after looking at résumés all day, but there was something about his unusual background that intrigued me, especially when it came to managing the data and analytics we deal with on a day-to-day basis.
I figured it couldn't hurt to bring him in for an interview.
In hindsight, I'm thrilled I did.
A Poker Player Joins a Marketing Team
It sounds like the beginning of a joke, but Ryan's job interview was no laughing matter.
He might not have known much about programmatic media buying, but right off the bat, his self-discipline, enthusiasm, and vision blew me away.
I saw so much potential in his eagerness, and I quickly realized the years he'd spent playing poker had instilled in him certain values and ethics I wanted all of my employees to possess.
I hired him, and during the course of the next year, he became one of my best digital specialists.
Eventually, I needed to promote someone into a managerial role, and Ryan was the no-brainer choice.
To this day, he continues to make me proud as he leads our programmatic marketing team.
Ryan's experience in working with numbers and people was developed in a very different setting than most marketing experts', but he is able to draw on three key poker skills to be a successful leader:
Sticking to the process. As a poker player, sometimes the luck of the draw isn't on your side, but you still have to stick to the process of smart play. Similarly, an effective digital marketing company needs to stick to its defined process and workflow, even when campaigns may not deliver the expected results, perhaps due to factors out of its control.
Balancing data with the human element. There is a human element to poker and marketing, but it needs to be balanced with the information at hand. In poker, you need to analyze how other players react, but you also need to know your odds. In marketing, you need to analyze tactics and placements, but you also need to understand behavioral and demographic profiles.
Knowing when to fold. Just as a good poker player knows when to cut his losses, leading a programmatic team requires the ability to identify technology, processes, or even employees unable to meet expectations, and to make quick decisions to move in another direction. Analysis paralysis commonly leads to further losses.
Hiring a Wild Card
My choice to hire a former professional poker player may have been unorthodox, but I'm not bluffing when I say it has resulted in the development of an excellent marketing team.
Focus on skill sets rather than education or experience.
You'll bring in some of your most talented people, and your company will be stronger for having employees with diverse backgrounds.
You, too, can hit the hiring jackpot if you think outside the box when vetting candidates.
Image credit: shutterstock