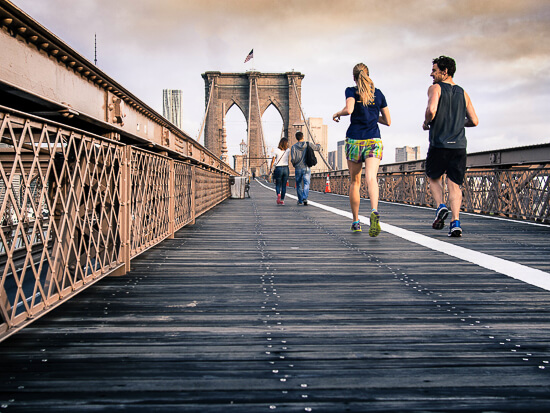 By Corina Manea
Accountability is a word you hear often in team meetings, client meetings, and even in annual reviews.
Some like it, some not so much.
But here is the thing: The word itself, "accountability" is just that—a word.
The meaning we give it, well that's a different story.
At this point you may be wondering what FitBit has to do with accountability and why the heck don't I get to the point.
Patience!
Let me tell you a story about a gal who claimed a while back she would not wear a fitness bracelet ever, not matter how cool it was. (I am pretty sure Gini has that recorded somewhere.)
She was sure it was a stupid thing and it wouldn't help with her fitness goals, so why bother.
Boy was she wrong.
In no time she learned how to use it, how to set goals, and found that many of her friends were already using it.
She became involved, she even liked competing with friends and looked forward to reaching her personal goals every day.
You guessed by now, it's me!
Discovering and embracing FitBit was a journey towards accountability for me.
Six Things You Can Learn About Accountability from FitBit
Setting Up Doable Goals
Just like most beginners, I fell into the trap of setting a high goal for myself.
I wanted to compete with the big guys or gals in my case (cough Gini, Laura).
If they could do it, so could I.
Wrong!
I failed to take into account the training they had ahead me.
So to be able to even think I could compete with them I had to set a doable goal for myself and train every day.
Guess what?
It wasn't easy!!
Practice, Practice, Practice
Accountability is about practice.
It's about working your butt off over and over again, whether it's for fitness, PR, your own business, fill in the blanks.
You cannot compete with the big guys, if you're not first accountable to yourself and practice your craft every day.
Consistency Is Key
To be successful you need to be consistent.
Want a successful blog? Blog consistently.
Want to be super healthy and fit? Work out consistently.
Consistency is about taking small steps every single day towards the goals you're trying to achieve.
At first, you won't see much improvement.
At times it would look like you're stuck in the same place.
Ignore those feelings. Keep going.
One day you'll wake up writing better blog posts and articles.
One day you'll wake up and run five miles, 10 miles, maybe even a marathon.
One day you'll wake up and see you can actually smile to that big scary client.
Consistency is the key to your success and it goes hand in hand with accountability.
It's About Awareness
FitBit helped me become aware of my daily routine, my daily habits.
I learned what it meant to get to 10,000 steps per day.
I knew what I needed to do to reach 20,000 steps per day.
But above numbers, I became aware and understood what it took me to get to those goals on a daily basis.
No, it wasn't easy and it came with ups and downs.
"What do you mean I can't have fries every day?"
That was one of the conversations I had with myself…daily!
Awareness brought me accountability.
As I started to see small results, I became hungry for more.
Which leads me to…
Healthy Habits
Forming healthy habits it's not as easy as it might seem.
Even if you know intellectually what it's good for you and what is it not, those years of practicing bad habits, will fight you at every step.
You must persevere.
As for my fitness journey, I learned that breakfast is the most important meal of the day and it should be a healthy one.
I learned to drink water. Yes, you can laugh, but it's true. I barely drank water.
It's About Community
Whether it's business or fitness, it's about community.
FitBit brought together like-minded friends.
It helped form a community around a common goal—becoming healthy.
I'm excited to check and see how my friends are doing each week, and how far behind or not I am.
And when you get called out on Facebook cause you lost your FitBit (cough Eden), you feel great, because you realize your friends care.
It's fun and it's motivating.
There you have it.
These are the some of the things FitBit taught me about accountability.
How about you? What experience do you have with FitBit or other brand?