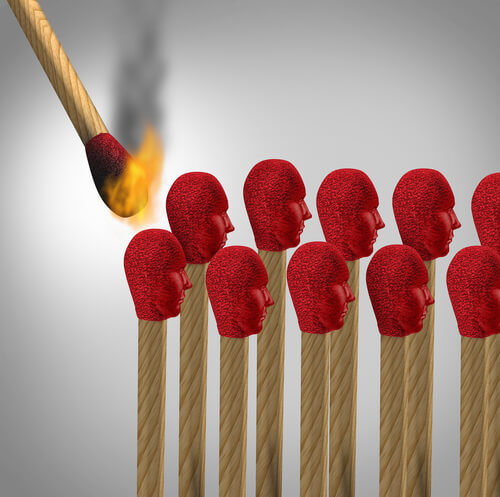 Like the invention of the automobile or the introduction of the television set, the birth of social media has changed the way we live and irrevocably altered countless industries.
Audiences abandon traditional forms of media—TV, newspapers, and magazines—for social platforms such as Facebook, YouTube, Snapchat, and Instagram.
Social media has been especially disruptive for advertisers.
U.S. audiences now spend 1 hour, 43 minutes on social media sites each day.
To reach them, marketers are discovering influencer marketing is one of the most effective ways to target and sway the purchasing decisions of social media users.
This marketing method, which leverages the reach and relationships of the internet's biggest "digital celebrities" to create engaging Instagram photos, YouTube videos, or Snapchat Stories, is now used by 75 percent of marketers in the Unites States.
According to analytics firm eMarketer, 81 percent of companies who currently have an influencer marketing strategy in place report satisfaction with the results.
Influencer marketing is quickly becoming mainstream.
But many companies and marketing professionals still aren't entirely sure how to develop, manage, and measure a successful campaign.
To clear up any confusion and help marketers better understand the important facets of influencer marketing, we have developed a 10-step guide to launching an effective influencer marketing campaign.
How to Develop an Influencer Marketing Campaign
The process of selecting the right digital star to collaborate with, developing a campaign, and accurately measuring the results can seem daunting.
Here, we break our influencer marketing campaign strategy down into 10 simple steps.
Step #1: Establish Your Campaign Budget, Audience, and KPIs
Before you begin reaching out to influencers you must first set the budget for your influencer-driven initiative.
Determining how much you're willing to spend will help narrow your campaign's focus when it comes to selecting the right influencer (or group of influencers), establishing the target audience, and setting campaign goals, or key performance indicators (KPIs).
Step #2: Identify Where Your Audiences Spends Time
Though some industries are well-suited to a specific platform—the visually-based format of Instagram lends itself well to beauty and fashion brands, for example—deciding which social media app or network is best for your campaign will likely be determined by your target audience.
Do people who buy your products favor YouTube or Facebook?
Are your consumers more likely to engage with content on Instagram or Snapchat?
Answering these questions will help determine which social media platform is right for your campaign.
Step #3: Determine an Effective Publishing Schedule
Coordinate your influencer marketing campaign with your company's overarching marketing initiatives.
It will help boost the effectiveness of your influencer marketing efforts.
Once you chose an influencer, follow their advice regarding when followers are most receptive and publish content around those times of peak engagement.
Step #4: Select the Perfect Social Media Influencer
Three-quarters of marketers say the biggest challenge to influencer marketing is finding the right influencer.
This step can be simplified if you already have established a campaign budget, target audience, and social media platform.
Before reaching out to any digital star, first make sure they have high social "engagement" (i.e. "likes," comments, shares, etc.) on their channels and that their content aligns with your brand identity and messaging.
Knowing how to properly vet influencers is a critical aspect to influencer marketing campaign success.
Step #5: Conceptualize the Campaign
After choosing the right influencers for your campaign, you should communicate your expectations clearly and succinctly.
Give them a creative brief that includes all relevant information, such as campaign copy points, goals, and publishing schedule.
Avoid controlling specifics about the campaign's content.
Allow the influencer to decide how best to incorporate your product or service into their photos, videos, or blog posts.
Step #6: Negotiate Compensations and Have Contracts
Though some marketers find the lack of rate standardization among influencers frustrating, a simple negotiation can keep all parties on the same page.
Once an agreement has been reached, draw up and sign a legal contract that includes deliverables (what content will be produced), compensation, licensing rights, publishing schedule, and any other pertinent information.
Step #7: Double-Check All Campaign Content
Prior to launching your influencer marketing campaign, it's best to review and approve content to ensure it touches on mandatory copy points, is consistent with the brand's messaging, and adheres to Federal Trade Commission guidelines.
In lieu of the FTC's increased scrutiny of sponsored social media content, this last point is of utmost importance.
Step #8: Green Light the Campaign
Once approval has been granted, you may give the go-ahead for the influencer to "push the campaign live" on his or her social media channels.
During this time, closely monitor the campaign for performance, engagement, and any other activity you find notable or relevant.
Step #9: Boost Reach and Effectiveness By Optimizing Content
Sharing the campaign on your own social media channels can boost the overall reach of the influencer marketing campaign.
Ask the influencer to share the sponsored content across other platforms.
(If they are willing and/or additional social promotion/sharing is part of your contract stipulations as outlined in Step 6).
To supercharge a campaign's performance, publish additional content around the initial initiative.
You can also rewrite the campaign's call-to-action (if you chose to use one).
Step #10: Collect Data and Analyze Results
To determine your influencer marketing campaign's success, collect as much data as possible.
Then compare these metrics to your predetermined KPIs.
Objectively assess the campaign by looking at how well sponsored content performed compared with an influencer's metrics for non-sponsored content.
What would you add to the above?