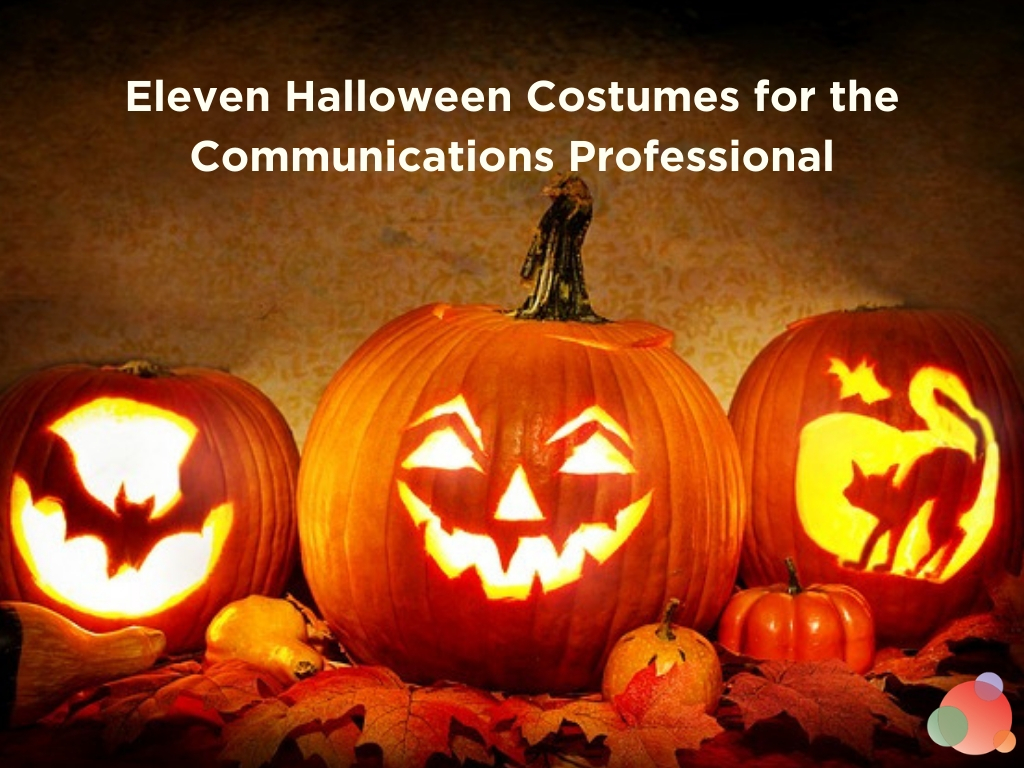 October is always a crazy month for the communications professional.
Between creating next year's PR plan and trying to smash as much effective work into the quarter as possible (prior to everyone going MIA for the holidays)—we have a lot on our plates.
No doubt, many things have to be put on the priority back burner.
Maybe even your … GASP … Halloween costume.
Luckily, here at Spin Sucks, we want to help protect the priorities most crucial to you and your business.
Obviously, helping you find the right Halloween costume is one of them.
The 2019 Spin Sucks Guide to Halloween Costumes
That's why we are very proud to present the 2019 Spin Sucks Guide to Halloween Costumes for the Communications Professional.
As our 3rd annual costume guide, we've added more costumes, updated you on current spooky trends, and even provided bonus team or family options.
Next year, I'm hoping for a partnership with one of the online Halloween costume stores.
So if anyone has any connections, hook a girl up.
There might be a free PESO model costume in it for you.
So if Halloween snuck up on you like a ghost in a haunted house, have no fear!
We're here to save the day (insert Wonder Woman costume). 
It's sure to create a memorable Halloween for you and all of your friends.
Costumes for the Social Media Crowd
You tweet.
And "like".
You "insta" so much your co-workers take the long route to the bathroom to avoid your desk and ever-ready photo ops.
You engage ALL the people on ALL the social media channels.
If Facebook were a planet, you'd be mayor of a large city.
One time you forgot to update your Instagram Story for three hours and your best friend called to make sure you weren't abducted by the alien in the filter you used earlier in the morning. 
You might even dream in #hashtags.
If that describes you, then these #halloween2018 #costumes are for you!
Social Media Symbol
I mean, well duh guys! This one never gets old.
You could be your favorite social media platform.
Hootsuite compiled some awesome DIY social media costume tutorials to get you started.
I love this DIY Pinterest option (ironically which I found ON Pinterest, so meta).
And this video …
Team/Family Option: Get a group together and you can represent the entire social media landscape. Or choose one network and dress up as a variety of typical post types. For example, you could all be different types of passive-aggressive or "pseudo-expert" comments left on a Facebook post. Or maybe a plethora of typical comments left on a political post. That will surely be the hit of the party and not create ANY conflict (hashtag #sarcasmalert).
Pro tip: This is also a great way to let someone in your life know they are "so yesterday."Just ask them if they want to dress up as MySpace. (Don't worry folks, I'm an endless reservoir of stupid jokes like this… they'll never run out.)
Snapchat or Instagram Stories Filter
How many times have you said, "I wish this filter was real life?"
I'll be the first to admit, some days when I'm feeling bad about myself, and just feel lucky I managed to put on two socks that match, I just sit myself down and give myself a IG story filter ego boost.
Pure. Gold.
Now's your chance to choose your favorite and make that filter real life … even if just for a night!
You can find some great ideas HERE (for Snapchat) and HERE (for Instagram).
I am still extremely traumatized that the Snapchat dancing hotdog costume we featured here two years ago is no longer available.
But I just can't bear to delete its awesomeness from this post.
So here it is, should you be inspired to try to make your own.
(Or even better, see if Betsy Decillis will knit you one. Tell her I sent you. Ask her to post a video doing the Monster Mash, trust me on this one.)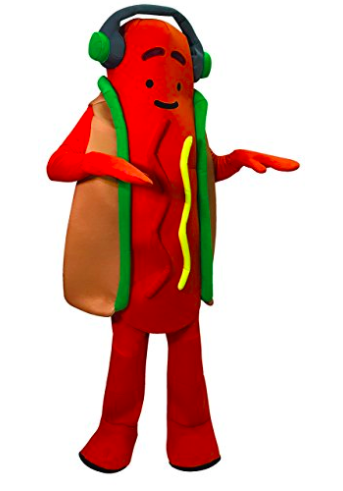 Team/Family Option: Everyone chooses their favorite filter. 
Pro tip: Now's your chance to be your own branded filter, at a fraction of the cost. Hellloooo! Can you say Spin Sucks filter coming your way this Halloween? Who's in?
YouTube Tutorial
Want to give advice about a topic you may or may not know a lot about?
Why not be your own tutorial video?
Put a frame around yourself like you are in a YouTube video and give advice to people ALLLLLL night long.
Team/Family option: If you all don't mind being close, be in a video frame together!
Pro tip: Make some extra money by selling video ads to local stores that you periodically hold up in front of your video frame. ("Your video will resume in five seconds, but first …")
The Social Media Ad
Speaking of ads …
Why not be your own social media ad and monetize your Halloween the communications pro way.
First, pick who you are going to target.
The more specific the better.
And then whenever you see someone in your target audience go up and pitch them.
For example: Males wearing green between the ages of 25-30 with an interest in sloths, beards, and acoustic guitar.
This is a great costume choice as an ice breaker for those awkward moments at parties.
Just go up to someone, ask them some targeting questions, and if they aren't in your demographic you have a perfect excuse to remove yourself from the situation.
It's not them. It really, legitimately is … you.
For our single communications pros, we won't judge if your "targeting" criteria just happens to align with all the traits and interests of that guy or gal you've been crushing on for the last year.
Team/Family option: Grab a friend and A/B test yourselves with different ad types.
Pro tip: If you have your own business, be a sponsored ad for yourself. If not, find a local organization and offer to be a walking human social media ad for them. Charge them based on the number of people who go visit them in the next few weeks using code "trick-o-treat" for a 10% discount.
The Social Media Influencer
A social media costume round-up isn't complete without the social media influencer.
This one is easy.
Grab an old t-shirt and write "influencer" on it then bring a few different products you want to promote.
Make sure you have your own discount code to share as well.
Team/Family option: Choose competing products and see who can sell the most to party-goers or innocent trick-or-treaters during the night.
Pro tip: Don't forget your #ad hashtag and proper FTC guidelines as well.
Costumes for the Content-Crafting Communications Professional
Maybe the thought of dressing up like a social media platform makes you want to click the "sad" or "angry" reaction on Facebook five zillion times.
Come on, you want to really OWN your costume.
And content is really the only "treat" a communications professional needs this Halloween season. 
If your witch's brew is full of compelling content and lead funnels, then these are the costumes for you. 
Google
That's right! It's the dream of every communication professional.
You can be a Google. (The Google? King Google? Sir Google? The Honorable Google?)
If I did this I'd get a Google logo hat and then a plain white t-shirt that I drew a big search bar on.
Team/Family option: You each can be a different SERP from common search terms for your organization or family. 
Pro tip: If you are going to be Google, you probably should familiarize yourself with all the data and stats around Halloween costumes on their

Frightgeist

site so you come prepared to wow your friends at those costume parties ('cause there ain't no party like a pie chart party, baby).
P.S. If you haven't seen this Google Jack-o-Lantern carving session from a few years ago, take some time to do so now.
Then go out and carve your own branded pumpkin!
Domain Authority
Don't feel up to being Google, but still want to bring some a-u-t-h-o-r-i-t-y to your Halloween.
Why don't you dress up like THE authority?
The Domain Authority, that is.
Ohhhhh yeahhhh. 

Team/Family option: Have one person be the website with a certain Domain Authority number and then have everyone else link themselves to that person with string as backlinks and referral links.
Pro tip: Go around and ask everyone "what's your number?" And then laugh condescendingly as they stumble over the answer.
Your Own Meme
Memes.
You love them.
Or hate them.
But the good news is, you can be one of them!
Choose your favorite meme and bring it to life.
This Kermit meme-inspired costume from Alex, author of Munchkins and Military is one of my favorites.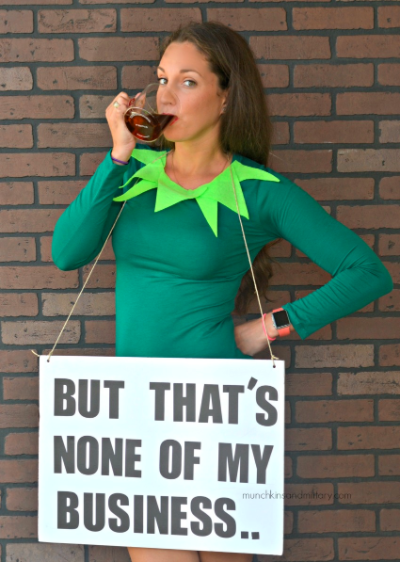 You can even be Grumpy Cat (RIP).
Here are some of the best memes of 2019 to inspire you!
Family/team option: Just find a meme with more than one main character and you're good to go.
Pro tip: Dude! You're a meme. No pro tip needed here.
Be the Most Popular Nerd at the Party
Want to be king of the nerds?
These two costumes will do the trick.
ChatBots
That's right, no communicator's Halloween party is complete without a chatbot or two.
You can dress like a regular robot but be extraordinarily efficient and polite.
Maybe hold up a sign that says "how can I help you today?" Or "let me get you signed-up!"
Team/Family option: Each communications professional can represent a bot function in your organization. Customer service, sales, lead generation, educational … you name it.
Pro tip: Read our recent article on chatbot uses and choose the type of bot you'd like to be.
Go Viral
You can "go viral".
There are a number of ways to do this.
You can either dress up like a virus, symbolically.
OR
You can pick a campaign or moment that went viral and re-enact it.
For example, you could pretend to be the ice bucket challenge and just run around dumping ice on people's heads all night long.
Team/Family option: Grab a partner who dresses up like a meme… BOOM! <drops mic>
Pro tip: Make sure it's clear you aren't actually contagious (for your non-digital friends).
For the Smart Communications Professional
The smart communications professional obviously only has one Halloween costume option: The PESO Model.
Even better, grab your team and dress up like the PESO model together!
One of you will be paid media.
One earned media.
Make sure someone represents shared.
And finally, someone as owned.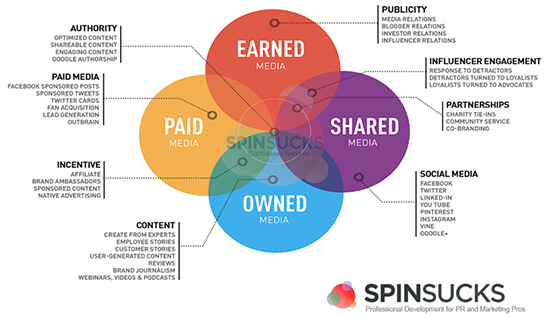 Together you are the best thing to ever happen to Halloween, not to mention your communications strategy.