Content marketing—or owned media, as it's known in the PESO model—can be one of the most important elements of your communications strategy.
It's content you create on a platform you own, such as your company's website or blog, which means you can control the message.
You control the creative.
You build the brand. And the community.
You can nurture an entire brand program with content marketing at the center.
If done well.
Unfortunately, many organizations take a "publish it and they will come" approach to their content.
That just doesn't cut it.
To get the most mileage out of your PR program, it's important to create a content marketing plan that's been strategically built to focus on keywords your prospective clients use when researching purchase options.
It also increases your SEO and search rankings, which brings those prospects directly to you.
Which, in turn, nurture those prospects and ultimately convert them to sales.
This may sound like a tall order to fill.
I promise you can do it, do it well, and have significant results.
There is a five-step process to use to ensure success.
Step 1: Identify Keywords You Can Own
If you already have a list of vetted keywords from your marketing team to work from, skip ahead to step two.
If not, complete the following exercise:
Write down all of the questions you are asked in new business—aka sales—meetings.
Write down all of the questions your customer service department is asked.
Go to your website or your internal server/Dropbox/Google Drive and grab your most recent frequently asked questions sheet.
Go into your sent mail and scan for questions you answer via email more than once.
Now, choose 10 of these items you'd like to use for content.
Next, go to Open Site Explorer and type in the URL of your website.
Write down what your domain authority is, which is listed on the left-hand side of the box, right underneath your website's URL.
Then, download the Moz toolbar (if you don't already have it) and turn it on.
Go back to your list of 10 keywords or phrases and, one-by-one, type them into a Google search bar.
Just like any search you do, there will be 10 websites that come up on the first page.
Because your Moz toolbar is turned on, you'll also be able to see the domain authority (listed as DA) of each site.
(Ignore the PA—or page authority. You don't need it for this exercise.)
Find Your Domain Authority Competition
Using the handy, dandy map that Andy Crestodina at Orbit Media created, figure out where you can compete.
For instance, if your domain authority is 19, you can compete with any site that has an authority of 20 or less.
Likewise, if it's 33, you can compete with any site that has an authority of 40 or less.
When you go back to the Google search results for your keyword, see if there are sites on the first page that are within your range.
If there is just one in your range, this is a good keyword for which you can compete.
If the results are all media heavy-hitters, which means you can't compete, refine your keyword into a longer, more specific phrase until you have a topic you can own.
Step 2: Create a Content Map
With your list of phrases in hand, draw a circle on a page (or in your favorite mind mapping program).
In that circle, write one of your keywords.
Draw three circles that branch of this keyword.
Populate those circles with subtopics that explore different components of the keyword.
Finally, for each subtopic, think about a specific piece of content you could create.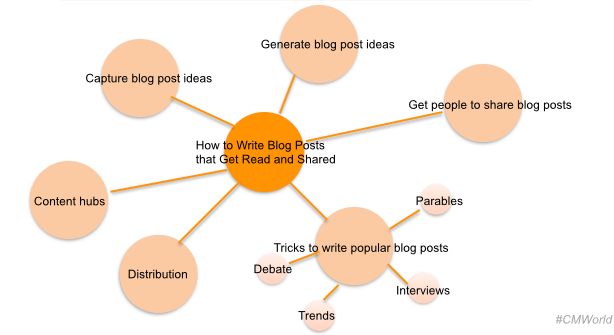 As an example, if my topic was "blog posts," I'd create a headline for my first piece of content in the main circle.
In this case, I chose, "How to write blog posts that get read and shared."
My subtopics, then, are:
Tricks to write popular blog posts
Get people to share blog posts
Generate blog post ideas
Capture blog post ideas
And so on.
Plan Where to House Your Content
From there, I have to figure out where I'm going to house all of this content, once it's created.
Using the "tricks to write popular blog posts" subtopic, I'm going to write a blog post on Spin Sucks about it.
Then, I'm going to use that as a launching pad for a speech at Content Marketing World.
While at the conference, I'm going to do several media interviews that link to that original blog post.
I'll create a Slideshare of my presentation and upload it.
And then I'll give it another refresh by inviting an industry expert to a Facebook Live to debate the pros and cons of the topic.
As you can see, there are lots of ways for you to use one topic for lots of different pieces of content.
The key here is that you've used your priority keyword—in this case, "blog posts—in every piece.
Then, when someone Googles "blog posts," they find at least one of those pieces of content on the first page of results.
Cool, right?
But,  of course, your work has just begun.
Now you actually have to do the work.
Step 3: Start Publishing on Your Owned Site(s)
Once you've created your content maps for your keywords, it's time to get to creating and publishing.
Try to mix up the types of content you produce and the cadence of topics.
Although it can be tempting to prioritize completing all of the content for your most critical keyword first, think about it from the customer perspective.
If your content is intended for top-of-the-funnel visitors who are not aware of your company, you may be better served by having a broader range of content.
As a rule of thumb, if you are looking to build domain authority and better your search results (and you should be!), you'll want to leave about a month between publishing each piece of content on a topic.
This gives Google enough time to crawl your site and begin to identify it as an authoritative source on your topic.
Step 4: Amplify Your Content Marketing with Media Relations
Once you published several months' worth of content on a topic on your owned site, you're ready to begin your media relations efforts.
Your goal here is to do more than just get your executive quoted on the topic.
You want to place contributed content that links back to the content you've spent the last few months creating and publishing.
Ditto for interviews and features—pitch the journalist on linking to a specific (measurable) page on your site to provide more depth to the piece they're creating.
Few journalists will agree to give you a link to a sales page.
But many will consider linking to a piece of thought leadership on your site that provides extra information or value to their readers.
Your content marketing also gives the journalist a sneak peek of the depth of information and the point-of-view your organization has to offer.
Step 5: Distribute Your Content with Paid Advertising
Don't stop with that awesome media placement!
Your work isn't done yet.
You can get a significant amount of extra mileage from it by putting a small amount of budget behind paid distribution of your content.
For as little as $5 per day, you can increase the reach of media placements or your content marketing pieces by using them as the call-to-action in paid social advertising on LinkedIn, Facebook, or Twitter.
Depending on your audience and the topic, content syndication through a platform such as Outbrain may also make sense.
(If you have to choose just one, start with Facebook. It's, by far, the most effective.)
With your content marketing in place, you'll start being able to track the influence your PR activities have on meeting your business goals.
This is the first step in showing that PR is a revenue-driver and not just another corporate expenditure.
A version of this first appeared on the Cision blog