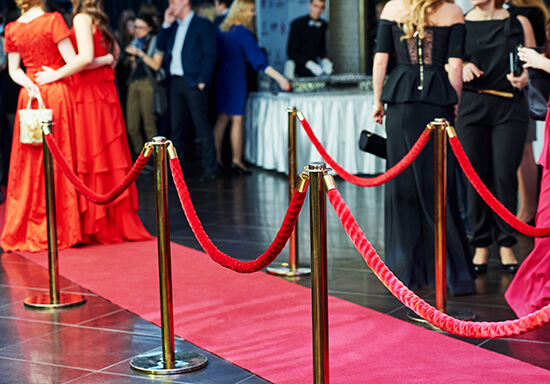 It's one thing to take a client onto the red carpet.
It's a completely separate story when you host your own, or one for a client.
From design, to preparation, to communication and execution, there are several small steps that must be taken before that scarlet walkway can be rolled out.
Last time I wrote for Spin Sucks, we discussed how to avoid tripping up on the red carpet.
Now, let's discuss how to orchestrate and organize a media-friendly red carpet that is social, sophisticated, flawless, and fun.
A red carpet event is the prime opportunity to bring together the top talent, media, influencers, and audience to create buzz for your event and broaden your brand (along with the brands that have sponsored you).
It is the job of PR pros to ensure their clients have been seen, photographed and interviewed, yes, but their job doesn't stop there.
Ultimately, the goal of any event is to connect clients to other influencers, executives, or media outlets for future collaborations, and to give their clients the opportunity to speak on timely issues in a meaningful way.
That is not easily done, however, without knowing the details of who will be attending, which media outlets to expect, the end-goal of the charity or organization, and the schedule of events for speaking opportunities ahead of time.
This is why, in my experience, these best practices have been the most effective way to accomplish a winning red carpet for everyone involved.
Red Carpet Event Rule No.1: Don't Be Shy to Share Your List
Providing other publicists with the names of media and influencers who are expected to attend can only help your event go more smoothly.
Obviously, use your discretion (if you are expecting Angelina Jolie to show up and you don't want her appearance to be leaked to the paparazzi, we understand that).
However, giving attendees enough information ahead of time will allow them to plan accordingly, make strategic introductions, and get the most out of your event and guest list.
Red Carpet Event Rule No. 2: Keep Up Communication
Effective and consistent communication can make or break an event.
Confirmations between publicists, clients, and media will give you a workable blueprint for what to expect.
This boils down to deadlines, directions, organization, and preparedness.
Translation: Email guests—both talent and media—once they've confirmed, the day before and the day of, to ensure details are clear, and to give them ample opportunity to tell you if they're no longer coming.
Red Carpet Event Rule No.3: Be Prepared for Surprises
You want your guests to arrive knowing they are in good hands at a high-class, exclusive event, which translates into over-preparedness.
Arrive hours ahead of time with pre-printed materials.
I once saw a PR team who didn't have name sheets printed out for all the confirmed celebrities before they arrived, so they scribbled out those names on sheets of spiral notebook paper and walked them across the carpet.
It looked unplanned, unprepared, and unprofessional.
Avoid this and other faux pas by bringing clear name tags, pens, tape, and even a white board.
In the event that a celebrity unexpectedly shows up, or their name tag is carried off in a windy gust, this allows you to write their name clearly on something and erase cleanly (so you don't end up with Tom Cruise's name penciled in on the frayed edges of a spiral notebook tear sheet, announcing to those gathered that you really didn't know he was coming).
Red Carpet Event Rule No. 4: Show Gratitude to Your Guests
An NRPR Signature Move: Before the event, make sure to take the time to write out thank you cards to the media who attended.
The reporters come out on their own time.
They didn't have to be there.
Many media professionals are undervalued and under-appreciated.
By personally thanking each one of them for their time, you will stand out.
Hand them their tip sheet, give them a smile and a thank you card.
They will remember you, appreciate you, and likely attend your next event.
When you are able to combine these tips to come together, look prepared, and execute a successful red carpet event, you will build a reputation among influencers and media alike for being prepared, organized, and on-point.
This will also help you get more business for future events and collaborations.
Always be pleasant, even when things are on fire.
Maintain your smile and composure, knowing you took the necessary steps to ensure everything will work out in the end.
Because with preparedness, comes efficiency, effectiveness and success.
Oh, and one last tip to take with you: Always wear black on a carpet you're hosting.
It is considered the ultimate, red carpet ninja uniform.
And it never goes out of style.
image credit: shutterstock