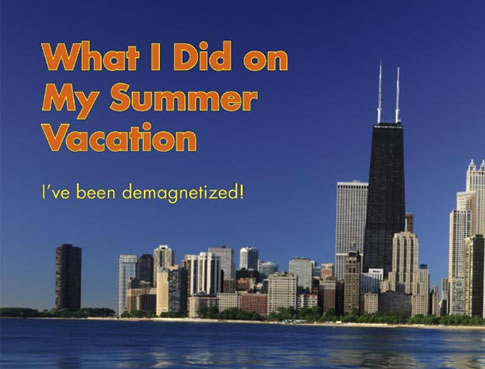 Ahhh. I'm back from vacation. Nine days (including the weekends) of pretty much doing what I want. I read five books. I rode 200 miles. I went to functional training twice. I cooked every day. I planted fall flowers. I raked the leaves and put away the furniture for winter. I got out my winter clothes. I slept in. I wrote when I wanted, what I wanted. I had a glass of wine every night. I spent time with old and dear friends I hadn't seen in a few years. I watched the Bears lose not once, but twice. And now I'm ready to get back at it…a force to be reckoned with so beware!
Because I don't have much on the brain right now, besides getting through my inbox (which I am dreading), I leave you with the top 10 blog posts I read during vacation. Not my summer vacation, but a book report, nonetheless!
1. From my friend, author, and all-around good guy Barry Moltz, a list of expenses to examine in your business.
2. A different take on why you should moderate comments on your blog from Shel Holtz.
3. Early in the week Charlene Jaszewski posted a someecards she created herself and born was my obsession with creating my own, too! You can do it too…it's lots of fun!
4. Not only does Shelly Kramer love Milk Duds and not only is she, hands down, in the top five funniest women I know category, she wrote a great post on how the advertising Zappos does humanizes the brand…and works.
5. Want some tips from Warren Buffet? Joe Hackman pulls together a great list of quotes that make a lot of sense in our crazy economy. I personally like the selling your IQ points one…I wonder how feasible that is?!
6. Always wondering how you should write so your blog is ranked high on Google? Social Media Examiner gives you six tips for optimization.
7. Even though it's written in David Letterman Top 10 style, this post on Conversation Agent is hilarious – the top 10 reasons Conan O'Brien's social media stuff is funnier than yours.
8. Are you a blogger? Do you want your blog to run efficiently? This MarketingProfs post about running your blog like a newspaper is excellent!
9. Because I just spent a week reading, this blog post from friend and client John Christianson, was perfect timing. Add your book recommendations!
10. I love Liz Strauss and I especially love her take on why PowerPoint is killing your presentations.
There are about 60 more I read, and really enjoyed, throughout the week, but this will get you started.
The floor is now yours…what did I miss?